Home Network Platform Now Live
Home is where the heart is, and it's also your connection to the world. Today's homes are connected to mobile phones, security systems, laptops, smart home devices, gaming consoles — you name it! To support all these devices, families rely on home networks.
There are close to 300 million internet users in the United States, with 67% of them owning at-home broadband systems. These home networks are a private collection of devices that are all connected to a router or switch (i.e. a local network). Every device synced to your home network can "talk" to every other connected device, opening up a world of possibilities for media streaming, network backup, multiplayer gaming, and more!
We've already proven that home network-dependent trends (like streaming and cord cutting) are popular among Betabounders, so we've added a new test platform to your Betabound profile: home network.
As connected homes become increasingly dependent on reliable home networks, it's important for us to know who in our community has invested in which home network types. This information helps us better understand who would be ideal candidates to test emerging products (like streaming devices and smart home products), as well as what products we should increasingly manage tests for (based on different home networks' popularities within our community).
Updating your test platforms increases your chances of getting selected for upcoming tests in two ways. First, if you have the required home network platform for an upcoming testing opportunity we can send it to you right away if we think you'd be a good match for it. Second, our beta managers look for people with current profiles since having an updated profile shows you're detail-oriented — a quality our team looks for in rockstar testers. Ultimately, you can increase the likelihood of being selected for one of our beta tests by making sure all your test platforms are as complete and up-to-date as possible.
To add the home network you own to your profile, log in and click the "Add New Platform" link on your community profile homepage.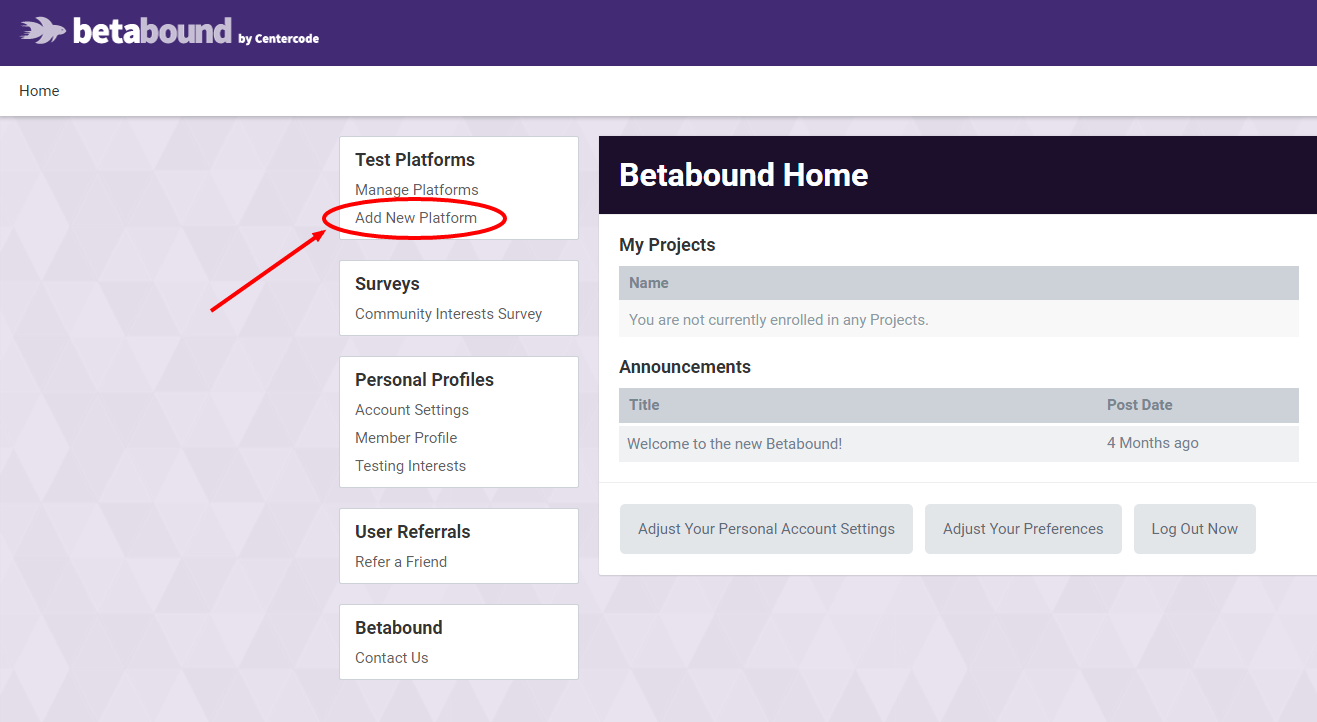 Next, click on the new "Home Network" link to go to the new platform.
On the form, you'll be asked to give us detailed information about the home network device you own. After naming your home network device (i.e. My Home Network), you'll be able to tell us more information about your internet service provider, your internet download speed, wireless router brand, and more.
Your home network device is your router or modem that supports your home's connected devices like streaming devices, gaming consoles, etc. So if your home has multiple routers or modems, then you'll have to fill out a form for each of those devices. Please keep in mind that adding your home network test platform will not include the devices connected to that network, so you'll have to add those devices as separate test platforms.
Odds are that almost every Betabounder has an internet connection at home, so this is a universal test platform that every tester can add! Through our pre-existing test platforms, we know about the other devices in your life (like your smart home products and wearables), but not the device that brings them all together — your home network. So we've added this test platform to complete the picture of your tech product ownership.
If you notice a major brand or category is missing, or if you have a recommendation for improving this form, please feel free to email us at hello@betabound.com or comment below! We'd love to hear your feedback.